Dive equipment maintenance
Done on site.
Our technician(s) have more than 30 years' experience in this field and are trained by the relevant dive equipment manufacturers. We are specialists in scuba dive equipment maintenance and repair.
Scuba equipment maintenance is more than just rinsing off your dive equipment., Special internal cleaning, component replacing and adjusting is a procedure which must be carried out to the manufacturers specification.
Though scuba equipment may look to be comprised of simple materials, maintenance must be carried out by trained specialists.
When using us we provide you with a guarantee of work done, we use original components. The replaced components are given back to the owner (however, o-rings etc. are cut through). Services occur according to the brand standards and if necessary special tools will be used to avoid damaging your equipment.
The most important feature of your new regulator is the person who services it!
1500
+ regulators serviced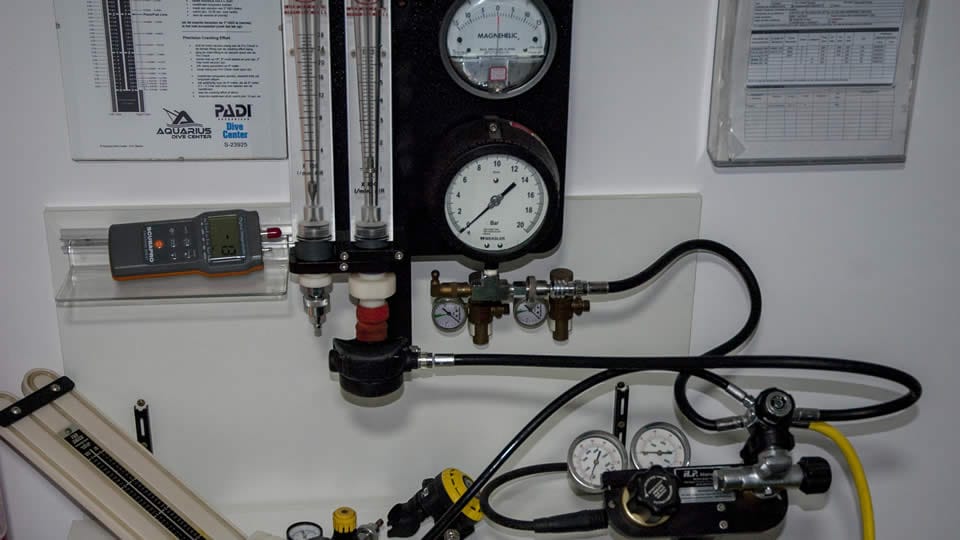 Test Equipment
Regulator adjustments are done according factory specifications and we always use professional test equipment for control, adjustment and to monitor the performance after the dive when the equipment is maintained.
Using our professional test equipment, we assure you of perfect equipment performance in accordance with the manufacturers specifications.
These test results, and regulator performance results, are documented on a maintenance test report.
We give a 3 month guarantee on the maintenance unless otherwise mentioned.
The test equipment we use
A.I.R. Flow Analyzer
Cracking effort
Dynamic intermediate pressure
Dynamic performance 1st and 2nd stage
Demand effort vs Flow
Venturi performance
Free flow control
Pro Check
2nd stage watertight integrity
Cracking effort
HP Manager
Controls the supply pressure to the 1st stage
Assimilate tank pressure to the 1st stage during testing
Scubapro Digital Magnehelic
Computer inhale and exhale diagram from 2nd stage
Digital BCD and wing inflation test
Oxygen service – Nitrox
Our maintenance technicians can upgrade your equipment so it is compatible for use with oxygen.
We can also service your current Nitrox equipment including cylinders and valves with a full Oxygen Service. During the maintenance process your dive equipment will be ultrasonic cleaned and where needed we will use steam cleaning.
We offer also
Hydrostatic testing, valid for 5 years in accordance with Spanish law.
Annual visual cylinder inspection, this includes the inside of the cylinder, exterior of cylinder plus valves and threads. This visual inspection is valid for one year from date of inspection, which is clearly marked by a V.I.P sticker.
Internal cleaning (shot blasting).
Valve maintenance
More than 29 years experience combined with our regulator testing tools makes us ideally suited for all your dive equipment maintenance and repair requirements. We promises standards that you will find nowhere in Tenerife.
Visit or contact us for advice about duration of service, other cost or any queries you may have.